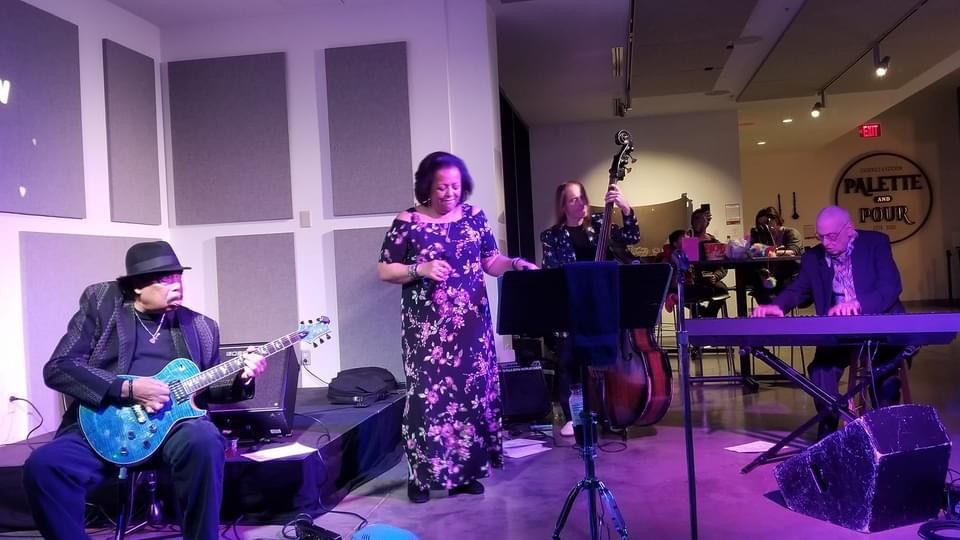 Our History
BC Blue is a collaboration of highly respected Blues veterans who formed in 2022 as a post-pandemic opportunity to focus solely on the Blues. BC Blue is comprised of MoMojo recording artist, Bev Conklin, "Chicago" Carl Snyder on keys, Joe Mac on guitar and most recently, Mitch Shelly on upright bass.
Bev Conklin's journey began with BC & The Blues Crew in the early 1990's and continues with the still-current Americana-Roots and Blues singer-songwriter band The BC Combo. "Chicago" Carl Snyder moved to the Lehigh Valley PA in the late 1990's and joined BC & The Blues Crew before forming his own groups, record label and writing his book, TEN THOUSAND AND ONE NIGHTS.  Joe Mac moved to Easton PA in 2008 and sought out the Blues scene joining The BC Combo in 2012. All have received multiple awards and been a part of the regional music scene since moving to the Lehigh Valley.
Bev Conklin ("BC") received her bachelor's and master's degrees from Penn State University. She wrote poetry, studied classical piano and learned guitar during her youth. BC is a singer-songwriter and is fondly named The Lehigh Valley's Queen of the Blues. Bev's roots are with her family legacies in New Orleans and Baton Rouge followed by her journey throughout the U.S. and Europe as an Army brat.  BC has performed with Koko Taylor and Lonnie Brooks at Mayfair, Shemekia Copeland at Sellersville, Ronnie Earl at the Pennsylvania Blues Festival, Saffire at Godfrey Daniels, Carl Weathersby at Kingston Mines and on bills with many international touring artists during her journey, most notable including opening for Ray Charles. 
From Brooklyn NY, "Chicago" Carl Snyder worked with over sixty of the Windy City's blues artists on keys, greats like Junior Wells, Otis Rush, Son Seals and Jimmy Johnson; his bio and recent book TEN THOUSAND AND ONE NIGHTS are both a stunning read. Carl has received accolades of praise from multiple reviewers of his own publishing company's (Lost World Music) repertoire calling him out as piano player extraordinaire who adds a certain je ne sais quoi and as the feature, elder statesman who contributes excellently, embellishing throughout,
Chicago born and Detroit raised (and survived), Joe Mac has a lifetime of experience with Chicago Blues masters like Buddy Guy, John Primer, Byther Smith, Eric "Guitar" Davis, Toronzo Cannon, Aaron Burton, Elmore James and so many more. Joe toured with Nature's Divine when they hit with, I Just Can't Control Myself.
Mitch Shelly was the bassist with BC & The Blues Crew and fills in on bass with The BC Combo.  Mitch has played and plays with many of the Lehigh Valley's finest. 
Given all the combined years, they are happy to be collaborating on nothing but the Blues. Contact us for bookings.