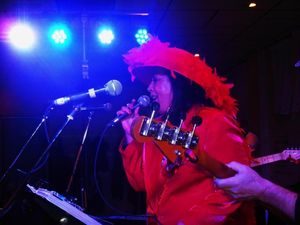 The BC Combo | Shows
THE BC COMBO, featuring MoMojo Records recording artist Bev Conklin, has been bringing their signature style and passion to Blues, Jazz, Swing, Folk, R&B, Soul and more for over 30 years. Their interpretation of Americana is expressed through their self-penned songs about relationships, joy, disappointment, soul-searching, peace and harmony.  This band's journey began as BC & The Blues Crew. Its members have been graced with performances on bills that included Ray Charles, Buddy Guy, Koko Taylor, Ronnie Earl, Shemekia Copeland, Son Seals, Lonnie Brooks, Rhonnie Baker Brooks, Saffire, the Holmes Brothers, Eddie the Chief Clearwater, Carl Weathersby, Eddie King and so many more. The BC Combo is composed of world-class international touring artists from New Orleans, Chicago, Bethlehem and the Oranges. They are among the Lehigh Valley's highly respected groups that have been recognized since 1999 by the Lehigh Valley Music Awards as individuals, a band, veterans, life-time achievers, for their recordings and community involvement in addition to being distinguished 1998 Finalist at the International Blues Competition in Memphis TN representing Billtown Blues Association. "It's all about having fun!"
New Orleans sent the Northeast a Queen and her name is Bev Conklin. BC has been bringing her brand of Blues, organization, creativity, perseverance and leadership for over 30 years along with an international touring band to include band leader Wayne Smith who toured on keys with Jay & the Techniques and backed other touring acts on keys, drums and guitar.  Wayne has arranged all their original music and given this band it's signature style since their start as BC & The Blues Crew in the 90's. From Chicago and touring with Nature's Divine, Joe Mac brings his gifted rhythm, soul and Blues on lead guitar. Former BC & The Blues Crew member, Nick Roberti, a brilliant Moravian graduate of Finance and Music… returns on bass and vocals; and from Orange NJ, retired supervisor and fire fighter, Glenn Spadone, keeps the beat of the band on drums.  
To date, The BC Combo is the only group who landed as a "Finalist" from the Lehigh Valley in Memphis TN representing Billtown Blues Society for the Blues Foundation's International Blues Challenge (IBC) on their material from "UNFINISHED BUSINESS" with songs like "You Must Think I'm Blind" and their own version of "Mellow Down Easy" and more.  Their motto... It's all about having fun! 
Formerly known as BC & The Blues Crew, The BC Combo has been performing since the early 90s at festivals, concerts and events throughout the  Northeastern U.S.  The band reels you in with their signature style, wit and humor; recognized by audiences across the region and abroad.  Bev Conklin (BC),  has an extraordinary compassion and grace that compliments her broad range of vocal styles and effortless power in voice. Wayne Smith on guitar and vocals, is the band leader, producer and arranger on all their material, insuring a new show experience with his influences from his influences. Chicago/Detroit native, Joe Mac... pours the tone and grooves on guitar.  Retired fireman, Glenn Spadone puts his vibe on drums. And returning this year on bass and vocals, Nick Roberti.
Bev Conklin (Vocals) 
Beverly was born in New Orleans Louisiana. Inspired by hearing her mother play Moonlight Sonata, Beverly began playing the piano by ear at age 3. This led to 13 years of classical training, choir during her teenage years and learning stringed instruments like the violin, ukele and guitar until she graduated Parkland high school. It wasn't until she finished graduate studies at Penn State and moved back to Allentown PA in her late twenties that she was asked to front a Blues band, which she named BC & The Blues Crew (now The BC Combo). BC has earned her wings as the Lehigh Valley's Queen of the Blues and along with her band mates, has been recognized with many Lehigh Valley Music Awards and more. Bev's inspirations are extremely diverse from Classical, R&B, Soul, Blues, Rock, Country and more.  Her friendship with Tonya Brown of Queen Bee and the Blue Hornet Band led to being encouraged to embrace this new opportunity.  Bev has sung with Lonnie Brooks, Ronnie Earl, Koko Taylor, Saffire, Carl Weathersby and many of the international touring Blues artists we have come to know and love.  She was the founder of the Woman's Blues Alliance and the Lehigh River Blues Jam and served on numerous boards of community organizations and more. Bev Conklin proves you can excel at whatever inspires you... she is an ambassador for the Blues community in the Lehigh Valley.  
Wayne Smith (Guitar, Percussion, Vocals) 
Wayne, a singer/songwriter, has been the primary arranger and producer for The BC Combo (formerly BC & The Blues Crew) since 1994. Playing in bands since 1967, his first band was NEW GENERATION with his brother Dave Smith. During the 90's, Wayne played keyboards and toured with Jay and the Techniques ("Apples, Peaches, Pumpkin Pie"). With the Techniques he also backed up other artists such as Tommy Roe, Gary U.S. Bonds, The Outsiders ("Time Won't Let Me"), Sam Moore (Sam & Dave), The Miracles, and many others. Wayne works with Rock Roots with Dave Fry, Nick Franclik, Kevin Soferra and other outstanding area musicians, touring the schools throughout the Northeast.  He was the Lehigh Valley Music Awards 2019 recipient of the Lifetime Achievement Award and previously honored for Guitar and Keyboards among others.  He also received a Lifetime Achievement Award in 2018 from the Lehigh River Blues Jam.  Wayne was the keyboardist and drummer with the Eric Steckel Band during their first few years on the Europe Rounder Label, which resulted in 2 CDs. https://www.mcall.com/entertainment/lehigh-valley-music/mc-ent-lehigh-valley-music-awards-20190217-story.html 
Recordings: 
Desperation Line 
Fun with the Wurlitzer Piano 
Just Doin' What I Do 
Up and Down 
Joe Mac (Guitar) 
Joe has been performing with the band over the last 6 years and became an official member in 2018.  Born and raised in Chicago as a Blues guitarist, Joe worked with known international blues artists like Byther Smith, Buddy Guy, John Primer, Lonnie Brooks & family, LC Walker, Eric Davis, Toronzo Cannon, Mary Lane, Shirley King, Holly thee Maxwell, Linsey Alexander and more. Joe Mac toured with Nature's Divine known for I Just Can't Control Myself. Joe received a Lehigh River Blues Jam Lifetime Achievement Award in 2018 and Lehigh Valley Music Award for 20 plus years as a musician (LOL... been more than dat). 
Glenn Spadone (Drums) 
Glenn is a retired professional Firefighter for 28 years. He started playing drums at age 8 and studied with big band drummer, Carl Wolf. He played in many bands over the years to include The Blues Factor, The Kim Brewer Blues Band, The Lovesick Homeboys and many fill-in drumming spots.  Glenn's main influences are Joe Morello of the Dave Brubeck Quartet, Buddy Rich and John Bonham.  Highlights for Glenn were opening for Albert Castiglia and Roomful of Blues.
Nick Roberti (Bass/Vocals)
Nick is a graduate of Finance and Music from Moravian University out of Bethlehem PA.  He now owns his own Accounting firm.
Nick began with BC & The Blues Crew in the late 1990's and has remained available on and off with The BC Combo.